We lack a voice in Lansing for our unique issues
My goal is to elevate the voices of my community and bring focus to our region that has been sorely lacking for a long time. I understand the issues that are important to lakeshore communities, and I will fight for them to get their fair share. By protecting the natural beauty of Southwest Michigan and the rights of the people who live there we can protect it for generations to come.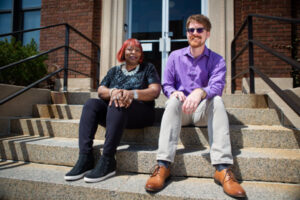 Everyone deserves to drink clean water, breathe clean air, and live in healthy homes. Benton Harbor has faced a persistent, widespread, and severe public health crisis. Lead in drinking water can be harmful to human health even at low exposure levels. We must update our water infrastructure, because lead exposure in drinking water pipes, faucets, paint, and walls threatens the health and well-being of essential workers, hardworking families, and children within our lakeshore communities.
Another common and urgent problem for coastal communities is shoreline erosion. Homeowners are experiencing their houses falling into the lake, basements flooding, standing water in their yards or fields, and backed-up sewer systems flooding the streets. High water levels and erosion in our area affect the people who live in these communities and threaten small businesses that rely on the tourism of our beautiful Lake Michigan. Without preservation of beaches and landscapes, people will not only find themselves needing to relocate, but they will also face business closures if economic activity is taken elsewhere.
The lakeshore relies on tourism as its economic engine, but we cannot let short-term rentals reduce affordable housing and harm local renters. Local homeowners and business leaders know how to best set clear definitions, record-keeping requirements, and ensure equitable caps for short-term rentals that preserve the character of our communities. Lansing should not dictate how our region addresses the short-term rental crisis.
Expanding Local Employment
While tourism is beneficial in bringing economic activity into our region, it does not sustain local businesses and lakeshore families year-round. Young people in our region continue to take their talents elsewhere. Safeguarding and modernizing our public school system is essential to attracting and retaining the best and brightest along the lakeshore. Teachers and students need to work under better conditions, mental health resources, and new tools like technical and career training programs. A sweeping investment into CTE programs will empower our students to learn a skilled trade, provide a pathway into the middle class, and create great-paying union jobs to help fix our decaying infrastructure. We must build a stronger economy in Southwest Michigan that makes our region an even more attractive place to live and raise a family.
Supporting a Healthy Workforce
The pandemic taught us that all workers are essential to a thriving community, and recovery post-pandemic. With a comprehensive approach to supporting current and future workers, we can ensure that everyone gets a fair shot and can work with dignity while caring for their families. We need to repeal the anti-worker legislation that has caused rising income inequality, stagnant wages, the loss of pensions, exploitation of workers, and the weakening of workers' voices in our lakeshore communities. We can fight back by making Michigan a "just cause" state, repealing the Right to Work law, and reinstating the prevailing wage. We must strengthen laws to protect unions and to ensure workers' freedom to organize and collectively bargain for paid leave, higher wages, health care protections, retirement benefits and safer working conditions. When workers are guaranteed their essential rights and protections in the workplace, productivity grows, civic engagement grows, and so does our economy.
Championing of Reproductive Rights
With Roe v. Wade under increasing attack, a pregnant person's right to access safe, legal abortion is at risk. Michigan has an abortion ban on its books if the landmark 1973 U.S. Supreme Court precedent is overturned. We must immediately repeal Michigan's arcane ban and enshrine the right to choose abortion as originally recognized in Roe v. Wade in Michigan state law. Reproductive rights are human rights. Politicians shouldn't be involved in an individual's right to decide for themselves if, when and with whom to start or grow a family. Everyone should have the right to access affordable, safe, and high-quality reproductive healthcare.
The Elliott-Larsen Civil Rights Act (1976) must be amended to include sexual orientation, gender identity, and gender expression. Michigan's LGBTQ+ community is at risk of discrimination at work, in housing, and in public spaces, which threatens many LGBTQ+ people's ability to earn a living and provide for themselves and their families. We must strengthen anti-discriminatory laws to ensure wellness, safety, and equity for all individuals, families, and communities in Michigan.